July is here and the All-Star Game at Citi Field is just a week away. As such, there are logos and signs around New York City, besides the Apples on Parade, and traffic signs are warning about heavy congestion around Citi Field next week.
We've got the advertisements on the side of phone booths (you can look those up on Wikipedia if you don't know).
Citi Field could do much better with it's beer selection. This week the Mets visit San Francisco and fans out there will watch some baseball and enjoy some beers. Let's take to Untappd and take a look at some of the beers they'll be enjoying and see how it stacks up against Citi Field.
Anchor Steam is the big brewery out there, and they're well represented. I see check-ins of Anchor Summer, Anchor Steam, Anchor Porter, Brekle's Brown, Anchor California, and Anchor Liberty Ale. The selection from one brewery exceeds the real craft selection at Citi Field. Other local breweries I see represented are The Lost Abbey (San Marcos), Speakeasy Ales and Lagers (San Francisco), Russian River (Santa Rosa), and Gordon Biersch Brewing. An embarrassment of riches and I didn't even mention them all.
Going outside of Bay Area breweries are other winners like Ballast Point, Allagash, Sierra Nevada, Spoetzl Brewery, or even any of the Anheuser-Busch (ABInBev) distributed ones like Goose Island, Redhook, Widmer and Kona that you can get at Citi Field as well.
I also saw a couple of stouts and a bock, all of which are darker than anything available at Citi Field. (And they have Guinness as well)
In terms of beer selection, AT&T Park makes Citi Field look like the minors.
Happy 4th of July! Be safe and remember, there is nothing more patriotic than watching baseball with a craft beer and the most patriotic song around is Take Me Out To The Ballgame.
There is a 2013 MLB All-Star Wine available from Purlieu Wines.  This is fine, I'm all for specialized products celebrating the 2013 game at Citi Field. Of course, this product was put together with about as little effort as one could manage. The URL for the site still reads 2012, and it's just a simple bottle of Cabernet Sauvignon with the game logo on the label. The description doesn't even mention the Mets, or New York. Additionally, it's from Napa Valley. While that's not necessarily a bad thing, there are a ton of nice wineries on Long Island that are local and would probably love to sell one of their wines for this event.
And there is no beer. You can specifically tailor a beer to the event and it takes much less time to brew for production than wine. There are dozens of appropriate breweries in New York that could provide something fun. Even Ommegang, the brewery located in the same town as the Hall of Fame, would be a great choice. They brew a special beer for Game of Thrones, I imagine they could spare a couple of barrels for the Midsummer Classic. Think about how neat it would be for the baseball Hall of Fame to feature a collection of bottles from each game?
Regardless, there seems to be no All-Star Beer. Citi Field's beer selection isn't horrible, but it has about as many All-Stars as the Mets do. It's disappointing that the event seems so corporate sometimes it's hard to get some of this personalization. Never mind that Budweiser is a huge MLB sponsor and would probably do their best to nix any non-Budweiser beer being celebrated anyway.
I noticed this giant Apple in Grand Central Station during lunch today, only to discover it was part of something bigger. A Mets Apple Parade!
There are 35 apples around New York City, all in Manhattan sans the MLB All-Star Game apple that's in front of Citi Field. There is one for each team, one for the National League, one for the American League and then two for the departed New York Giants and Brooklyn Dodgers. (@fletch788 saw the Brooklyn one, also in Grand Central)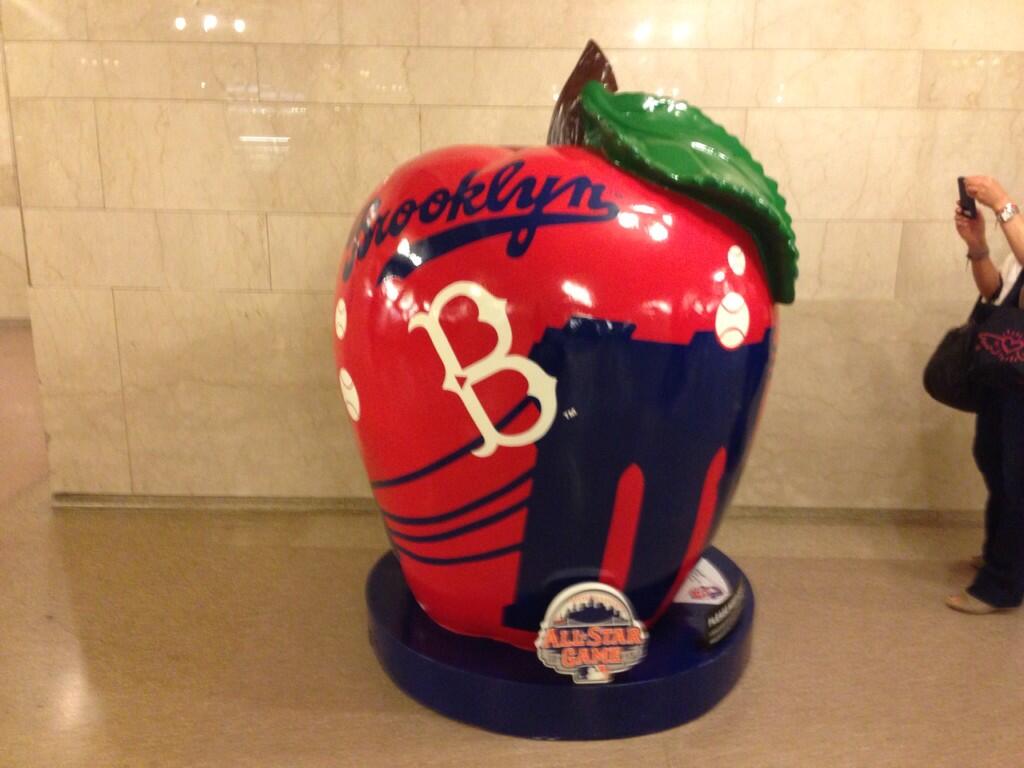 More info about the Apple Parade.
If you Instagram an apple, or 15 of them, you are entered to win a prize which may include World Series tickets.
My first instinct was obviously to look up where the Mets apple was, and fittingly it's in front of/near the SNY offices, but when I got there it was nowhere to be found. Apparently they aren't all set up yet. We'll find out shortly if the one at Citi Field is there as the gates open in a couple of hours for tonight's game. I was sort of hoping the Yankees apple was buried in a deserted alley somewhere, but no such luck; it's just off Times Square. That may be fitting as Yankee Stadium closely resembles Times Square sometimes.
Some of the locations just seem odd though; why is the Los Angeles Dodgers' apple way up at a T-Mobile in Harlem?
Whether from jealousy, frustration over media sycophants, or over-exposure to obnoxious fans, it's easy to be a Yankee hater. With the Subway Series this week, it's important to maintain the proper amount of hatred. This is sometimes hard to believe, but there are actually good Yankees fans out there, and some of them might even be friends and family.
So it's always my goal to check my level of Yankee hatred and keep it just below the love of a true fan.  Also it should be clearly below your love for the Mets, because honestly if you hate another team more than you love your own, why are you even bothering? Don't engage the bandwagon fan that just wants to yell "27 rings!" but doesn't know who David Phelps is, and don't go out there with the intent to drink too much and try to start "Yankees Suck!" chants at every hit. There's real actual baseball being played that should provide plenty of opportunity for fans of both sides to needle each other and gloat.
Trash talk can be fun, but it's always more fun when it's based on knowledge, reality and this season. If Ike Davis strikes out, then sure, we've gotta take it. If Lyle Overbay is slow getting around the bases and gets thrown out, then sure, make a joke about how old the Yankees are. Grumble about the short porch (On Wednesday and Thursday) when someone hits a pop-fly that leaves the yard but be prepared to take it when someone jokes that Daniel Murphy has warning track power because he hits it to the deep part of Citi Field.
What we don't need is hatred and venom for the sake of hatred and venom. Those rings won 4, 13, or 90 years ago don't give the Yankees any advantage this season nor does it make them more deserving. Just because Derek Jeter, Andy Pettitte, and Mariano Rivera were parts of PED infested clubhouses doesn't mean every other word out of your mouth should be to call them cheaters. Keep it on the game. Joke about how Jeter's not healing like he used to and his range will be even further diminished, or how the amount of saves Rivera has already, and hence the workload, might be a red flag down the road. Bring up how the Yankees seem to be relying on Andy Pettitte too much and that he hasn't pitched a full season in ages.
Overall, just keep it civil. We're all New Yorkers here. You can toss barbs and insults around if you like, but remember it's a game and it's supposed to be fun to watch, not an excuse to get angry and yell. Nothing conclusive is ever decided by four games in late May.
Last night I was lucky to be in the ballpark to see Matt Harvey baffle the White Sox hitters all night long. It was an amazing performance from the start, and a captivating one. I watched the game in awe; whether or not he would get the perfect game was immaterial to his dominance. You knew that he was pitching well enough to get one, and if he didn't it would be that odd squib or perfectly placed grounder that broke it up. It was precisely that, a perfectly placed ball between third and short off the bat of the speedy Alex Rios that did it.
That didn't take away from the greatness of it. That's probably the best game I've ever seen in person, and it might just be the best game I ever will see in person and I'm only 31. Last season I saw Dickey spin a masterful one-hitter that had much the same feel as last night's game in that you just knew the opposition had no chance. I also saw Johan Santana's 4-hit complete game shutout the start before the no-hitter that was probably his most dominating game of the year. Before that I got to see Santana's final start of 2008, that gutsy performance to flay the Marlins and keep the Mets playoff hopes alive. That was a great game too, but any of us would've taken a 12-10 slug-fest just as easily, the magnitude of the win overshadowed how it was achieved.
Watching Matt Harvey emerge..no, emerge sounds too timid. Watching Matt Harvey burst onto the scene as one of the best pitchers in the game the way he has is a feeling all it's own. He leads the league in strikeouts and WHIP. He's given up an average of only four hits per nine innings. He throws in the mid-high 90s with his fastball.  He'll pitch with blood streaming out of his nose. He probably juggles between innings to entertain his teammates and feeds and nurtures the stray cats that live around Citi Field.
Onlookers that remember have started to draw comparisons to Dwight Gooden and how his starts at Shea Stadium were events. Matt Harvey is certainly getting there, and fast. Just look at Twitter and see all the people after the game last night and today planning to be there on Sunday for his next start. As the weather warms up this will become very evident, but it hasn't yet. Last night's crowd was sparse and quite for the most part. Everyone got into it as they realized just how dominating he was last night, but for a nice night against a team that few Mets fans have ever seen the crowd was disappointing.
I understand that you feel betrayed by the Mets, or the payroll, or the record, or the Wilpons, or Beltran, but baseball is awesome and every Matt Harvey start, if not every game, is an opportunity to see something wonderful. So instead of muttering under your breath about wasted starts and commenting to me about firing the hitting coach as we watch the bottom of the 10th, enjoy what's in front of us; a great Matt Harvey performance and a walk-off victory.
I've updated the Citi Field Beer List to reflect the changes I noticed on Opening Day.
Craft Additions: Sixpoint Bengali Tiger, Kona Big Wave Golden Ale.
Craft Subtractions: Sierra Nevada Pale Ale, Magic Hat #9, Blue Point Cans.
Macro Additions: Redd Apple Ale. Third Shift Amber Lager, Budweiser Black Crown, Beck's Sapphire.
This is a step back. The Bengali Ale is really nice, but the pushing of the more macro crafty imitations is poor when it seems to have come at the expense of some real beer. Still no dark beer to be seen.
I was very focused on baseball yesterday and haven't gotten to do a full sweep of Citi Field or found my way into any of the clubs to see if there's a hidden nugget. There are probably a couple of new additions I've missed, somewhere, and I'll be back to find them.
Follow @Ceetar today while I share my observations and pictures from Opening Day.
Quick bullet point type list of things I"ll be scoping out today because I procrastinated this post and now it's late.
Trackman thingy. I found this article very interesting, and am going to see if I can find the panel.
New Beer. Is there any new beer, and what is it?
New food. Most of the new food has been previewed some, but I'll still be checking it out and getting a feel for what's new.
There's always new signs and kiosks and advertising. Subtle changes in the way Citi Field operates. I'm always interested in those things, the way the escalators run, how the security is behaving. That sort of thing.
Tailgate and Mets fan friends. Checking in with all the fun fans and bloggers that I rarely see anywhere but at Citi Field. It's a new season, let's have some fun!
And of course, most importantly, a Mets win! Let's go Jon Niese!
The Mets will have a couple of new items at Citi Field this year, from food to ticket options to drinks.
There is no mention of beer, which is disappointing. Perhaps it's just going unmentioned and there will be some new cool local options around, and I'll certainly be looking for them, but I'm not holding my breath. They do mention an expansion of the frozen drinks stand that was around somewhere last year.
El Verano Taqueria will have a cantina menu with frozen drinks, and they'll also be a frozen and mixed drink bar near section 414 on the promenade. That's right behind home plate on what I call the Citi Field Piazza.
Blue Smoke will have pork rinds, as well as a delicious sounding brisket sandwich.
Shake Shack will get their vegetarian option, the 'Shroom Burger. Also High Heat Cheese Fries,  Cheese Dog/High Heat Cheese Dog, and a "Meet the Pretz" concrete (black & white custard, chocolate covered pretzels and malt powder).
The Mets Hall of Fame will get a Johan Santana No Hitter exhibit as well as a ton of All-Star stuff to celebrate the Mets hosting the All Star Game.
There will be various ticket deals as well. $10 student rush tickets, military tickets, and some others including a free ticket for your birthday.
As always I'll spend a good chunk of Opening Day wandering the park to see what's new and hunting for secret beer stands. I'm sure there will be a couple of interesting things here and there.