And I'm right back out to Citi Field tonight and tomorrow.  Here's my rundown of the All-Star Game, with pictures!
My second actually.  This is what I wrote about going to the game in 2006. I bought the tickets in Spring Training on a whim thinking maybe I could turn a little bit of a profit reselling them, but it wasn't easy to resell a standing room only strip of tickets so the Sunday before we drove over to Pittsburgh.
Metspolice and The7Line have announced a plan to host something they're calling The Queens Baseball Convention, which is basically an excuse to get together and celebrate baseball in Queens in a FanFest type environment. Metspolice invited people out to a bar last winter and gave away awards in a silly "Let's get together and talk Mets" thing that was a lot of fun, so trumping it with this endeavor should be a blast.
Check it out while I try to fight off exhaustion from All-Star festivities to get some recap posts and pictures up.
They got this fence up REALLY fast in my opinion. Must have practiced.
Here's team USA starter Noah Syndergaard warming up before the game.
Two more games with Pittsburgh that overlap with a full slate of Citi Field All-Star Week events. It's going to be a blast. I'm going to all three events (And have been stuck with an extra ticket strip to them if you're interested..) and am trying to work out how to enjoy FanFest. You can read about my previous experience at the 2006 All-Star Game here.
My fanFest tickets are for Monday and Tuesday, and I have to work, so I'm only getting 40 minutes at FanFest on Monday so that'l be a crazy whirlwind.
I will be attending the Parade/All-Star Game Red Carpet Show of players down 42nd street on Tuesday though, so keep an eye out on Twitter and here for some pictures of that. I passed over a sign on the ground yesterday that said it'd be on 42nd between 6th and 3rd avenues. Looks like it starts at 1pm, but I'll have to figure out when Harvey and Wright are going to be passing by to time my lunch break correctly.
Sunday is the Futures game and it runs up against the Mets game, but I'll have to miss one game to see future Mets Noah Syndergaard, Rafael Montero, and Brandon Nimmo.  I've never been to a futures game, am I supposed to root for one team over another? Am I allowed to boo Yankees and NL East prospects?   I'm picking the U.S. to beat the World 9-5.
After that it's the Celebrity Softball game, which should be good silly fun at least.  You want predictions? Both Darryl Strawberry and Mike Piazza will homer. Rickey Henderson will steal a base.
Monday is the Home Run Derby. I know people have mixed feelings about a skills competition, and I do feel like it takes way too long, but there really is nothing like watching MLB stars absolutely crush baseballs live and in person. I considered standing, but there really isn't any good spot to stand at Citi Field in home run territory. The bridge is probably the best and I'm sure it'll be absolutely packed. I bet some lefties will hit it onto the Pepsi Porch concourse, but standers aren't being allowed up there without a ticket. I'm predicting David Wright will launch a home run that will smack into the glass of the Acela club. Remember, the better David Wright does, the cheaper tickets are for the Phillies series next weekend.
The actual All-Star Game is Tuesday night.  The beer selection is broken down here. The game in it of itself is basically a parade of All-Stars, and while I don't really care who wins, I will enjoy watching my favorite players on the field playing a great sport. I'll pick the National League to win 15-4. Why not?
Then comes what is perhaps the worst two days for sports because there is absolutely no games.
The All-Star
There are plenty of people headed to Citi Field for the first time ever next week for the All-Star Week festivities. Plenty of those people will be looking for a good beer list while they are there, and as the Citi Field Beer Expert, It's my duty to inform them of the selection at the park.
The best options are also local ones. Sixpoint Bengali Tiger or Sweet Action are available from a couple of locations, specifically the Craft Beer Dugouts and from the Pat LaFrieda steak shops. You can also get Brooklyn East India Pale Ale, and some other nice beers as well. The dugouts are located on field level by the foul poles, and on the first base side of the Promenade food court above the Rotunda behind home plate. Take a look at the map I've included for the location. Blue Point Toasted Lager is also a great local beer, and that one's available on tap at Catch of the Day which is located on the right field side of the Shea Bridge in center field.
If you happen to be in the Delta Sky club there is a bar with a decent selection as well, including Blue Point White IPA and Victory HopDevil.
Otherwise the best place to get beer is at Big Apple Brews, which is a standalone island of beer coolers behind home plate on the Promenade level and out in center field on the field level. Everything in there is distributed by Anheuser Busch, but there are still drinkable options like Goose Island, Kona, Redhook and Widmer.
That's your beer selection. It's not the best, but there are acceptable and tasty choices. Another thing worth mentioning is the price. It's $8.75 for premium beer, and that's the same price whether you get the tap of Kona Longboard Lager, the can of Blue Moon, or the 16oz can of Sixpoint Sweet Action. The light lagers are discounted to $8.25 elsewhere, and some stands have a 24oz option.
July is here and the All-Star Game at Citi Field is just a week away. As such, there are logos and signs around New York City, besides the Apples on Parade, and traffic signs are warning about heavy congestion around Citi Field next week.
We've got the advertisements on the side of phone booths (you can look those up on Wikipedia if you don't know).
Happy 4th of July! Be safe and remember, there is nothing more patriotic than watching baseball with a craft beer and the most patriotic song around is Take Me Out To The Ballgame.

Yesterday I had the opportunity to interview John Franco, who was handing out free ice cream in Bryant Park. I got his take on Matt Harvey, Blue Jerseys, Old-Timers Day and even The Cyclone.
You should already be voting for David Wright for the All-Star Game, but you should also be voting for Brandon Nimmo to get the last spot in the Futures Game on the Sunday before.  Noah Syndergaard and Rafael Montero will already be there representing the Mets.
Dwight Gooden's doing an exclusive Q & A and signing of his book in the Rotunda before tonight's game. Ticket's available.
Tonight starts the last home stand before the All-Star Game. It's also Harvey day. Follow me on Twitter for some pregame batting practice pictures and anything else I random take during the game. I'll be on the hunt for anything that may have showed up for the All-Star Game early..like any of this delicious food.
I noticed this giant Apple in Grand Central Station during lunch today, only to discover it was part of something bigger. A Mets Apple Parade!
There are 35 apples around New York City, all in Manhattan sans the MLB All-Star Game apple that's in front of Citi Field. There is one for each team, one for the National League, one for the American League and then two for the departed New York Giants and Brooklyn Dodgers. (@fletch788 saw the Brooklyn one, also in Grand Central)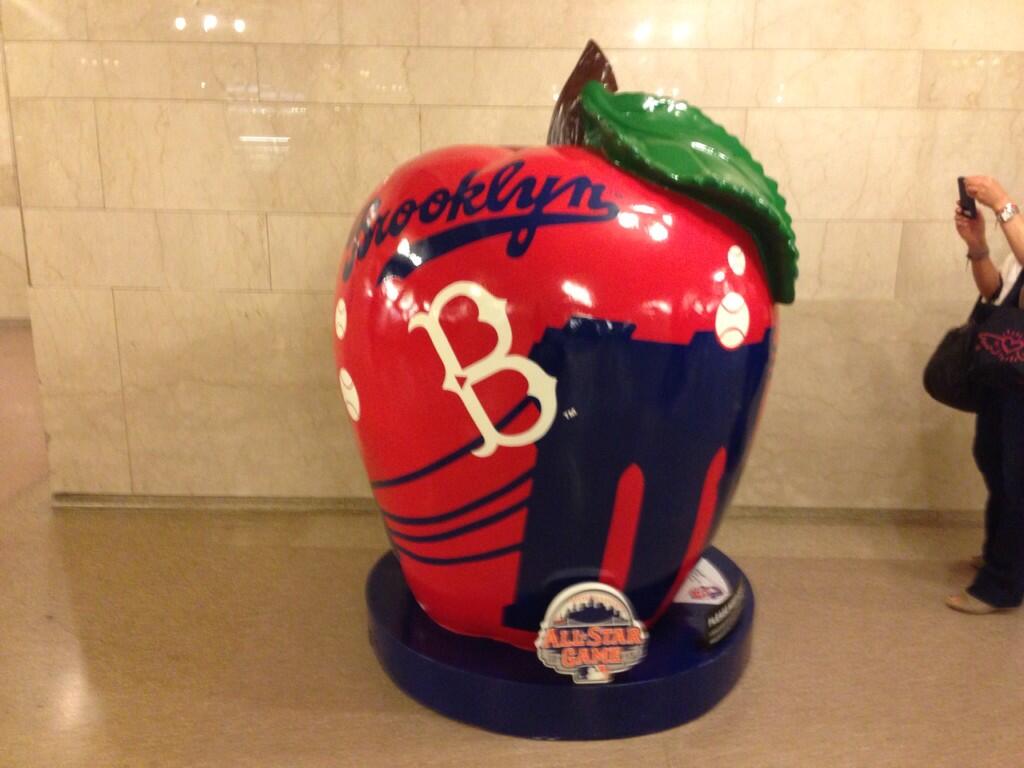 More info about the Apple Parade.
If you Instagram an apple, or 15 of them, you are entered to win a prize which may include World Series tickets.
My first instinct was obviously to look up where the Mets apple was, and fittingly it's in front of/near the SNY offices, but when I got there it was nowhere to be found. Apparently they aren't all set up yet. We'll find out shortly if the one at Citi Field is there as the gates open in a couple of hours for tonight's game. I was sort of hoping the Yankees apple was buried in a deserted alley somewhere, but no such luck; it's just off Times Square. That may be fitting as Yankee Stadium closely resembles Times Square sometimes.
Some of the locations just seem odd though; why is the Los Angeles Dodgers' apple way up at a T-Mobile in Harlem?