I noticed this giant Apple in Grand Central Station during lunch today, only to discover it was part of something bigger. A Mets Apple Parade!
There are 35 apples around New York City, all in Manhattan sans the MLB All-Star Game apple that's in front of Citi Field. There is one for each team, one for the National League, one for the American League and then two for the departed New York Giants and Brooklyn Dodgers. (@fletch788 saw the Brooklyn one, also in Grand Central)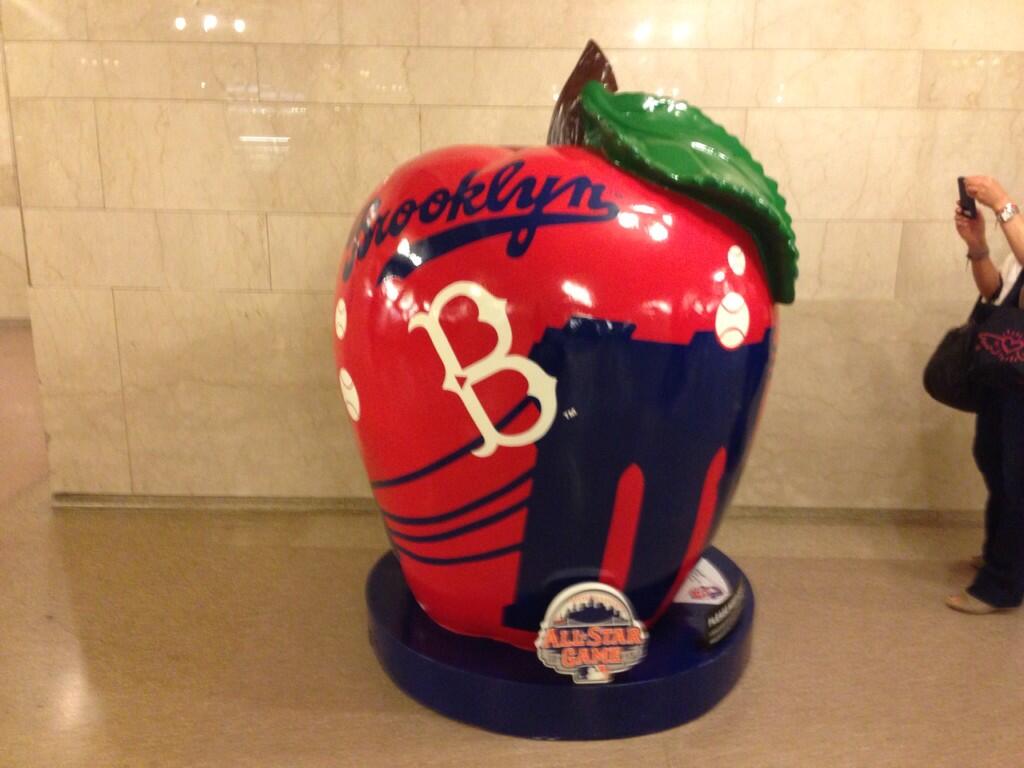 More info about the Apple Parade.
If you Instagram an apple, or 15 of them, you are entered to win a prize which may include World Series tickets.
My first instinct was obviously to look up where the Mets apple was, and fittingly it's in front of/near the SNY offices, but when I got there it was nowhere to be found. Apparently they aren't all set up yet. We'll find out shortly if the one at Citi Field is there as the gates open in a couple of hours for tonight's game. I was sort of hoping the Yankees apple was buried in a deserted alley somewhere, but no such luck; it's just off Times Square. That may be fitting as Yankee Stadium closely resembles Times Square sometimes.
Some of the locations just seem odd though; why is the Los Angeles Dodgers' apple way up at a T-Mobile in Harlem?
I've updated the Citi Field Beer List to reflect the changes I noticed on Opening Day.
Craft Additions: Sixpoint Bengali Tiger, Kona Big Wave Golden Ale.
Craft Subtractions: Sierra Nevada Pale Ale, Magic Hat #9, Blue Point Cans.
Macro Additions: Redd Apple Ale. Third Shift Amber Lager, Budweiser Black Crown, Beck's Sapphire.
This is a step back. The Bengali Ale is really nice, but the pushing of the more macro crafty imitations is poor when it seems to have come at the expense of some real beer. Still no dark beer to be seen.
I was very focused on baseball yesterday and haven't gotten to do a full sweep of Citi Field or found my way into any of the clubs to see if there's a hidden nugget. There are probably a couple of new additions I've missed, somewhere, and I'll be back to find them.
Follow @Ceetar today while I share my observations and pictures from Opening Day.
Quick bullet point type list of things I"ll be scoping out today because I procrastinated this post and now it's late.
Trackman thingy. I found this article very interesting, and am going to see if I can find the panel.
New Beer. Is there any new beer, and what is it?
New food. Most of the new food has been previewed some, but I'll still be checking it out and getting a feel for what's new.
There's always new signs and kiosks and advertising. Subtle changes in the way Citi Field operates. I'm always interested in those things, the way the escalators run, how the security is behaving. That sort of thing.
Tailgate and Mets fan friends. Checking in with all the fun fans and bloggers that I rarely see anywhere but at Citi Field. It's a new season, let's have some fun!
And of course, most importantly, a Mets win! Let's go Jon Niese!
We've got some World Baseball Classic games to keep us warm for now, but Opening Day is right around the corner. It's staying lighter at night longer now, the weather is starting to warm a little, and baseball is less than three weeks away. It's time to prepare yourself.
Catch up on television and clean out your DVRs. Once baseball arrives you'll find a lot less time to watch those shows.
Get your fantasy drafts ready. If you're planning on playing in one this year, now's the time to start getting them settled so you have some headway to make trades and adjust your bench before the season starts.
Load up your fridge with beer (If you're the drinking type/age anyway). Even if I'm not at the game I like to have a beer to open the season, it just seems natural. Opening Day at the park is usually pretty chilly, which is one of the reasons I've been advocating a nice porter or stout at Citi Field, maybe this year my wish will come true.
Remember your Twitter friends' real names. If you're like me you're always running into fellow fans at Citi Field that you know on the internet. I always find it slightly awkward to introduce myself as Ceetar (but if I say Michael, how will you know who I am?), so sometimes it's worth remember what people call themselves out there in that crazy real world.
What are some of the other things you like to get squared away for the start of the baseball season?
You can read a full recap at Amazin' Avenue.
Sandy had spoken earlier about not having been tempted yet to trade some pitching depth for a really good outfielder, or for anything else, but he then rattled off a dozen or so names and talked about the minor league roster crunch and that perhaps he'd be tempted soon. My question was meant to be a followup to that, where I asked, or tried to ask, what would push that temptation to the point that a trade is made?
He responded with a lot of talk about how close they came to making some moves with Bourn or Upton, and talked confidentially about the club, but it did dance around the question a bit. I was trying to figure out what the factor would be that changed his mindset from tempting to need and if part of the temptation might stem from the current plan getting derailed a little bit?
Perhaps if I could've asked a followup question I would've asked "If the Mets had won 83 games last year instead of what they did, is it more likely you would've traded for Upton?" What I was really looking for is if the temptation to trade these players is going to be the result of the team's success, or is going to drive the team's success. When does focus shift from making shrewd transactions to needing to acquire the player you want, even if it's an overpay. Is it only when adding a player like Justin Upton makes the Mets a favorite to make the playoffs, or can it be done simply to make the team better and let other factors, such as long-term success from Zack Wheeler, be what puts them over the top?
Welcome to the inaugural #spinit post, where I try to be cloyingly positive about reader-submitted topics. To submit a topic for me to 'spin', tweet (And follow) me @Ceetar with the hashtag #spinit or email me at ceetar@ceetar.com.
@ceetar what hope do we have the 'pen will actually be decent, if not respectable?#SpinIt

— MK (@attgig) January 14, 2013
It'd be easy to simply reference the blind nut principle with bullpens; sooner or later these relievers are going to have good years, but I don't think that's necessary. The Mets bullpen has the potential to be pretty good in 2013, and certainly 'decent' is a low bar.
Bobby Parnell is a good reliever. He was their best reliever last year, and he throws hard. That's a start. The Mets have a handful of fringe type prospects and young pitchers that can throw some that they can mix and match in the bullpen. Guys like Josh Edgin, Robert Carson, Elvin Ramirez and  even Jeurys Familia and Jenrry Mejia.
The Mets did fill their bullpen with some signings as well. Brandon Lyon is usually pretty good. He can certainly help.
LaTroy Hawkins is 40 years old, but he's been pretty reliable as a pitcher over the years. He put up a decent year last year after an awesome one for the Brewers in 2011. If he has anything less in the tank, he should be good for some innings.
Pedro Feliciano re-signed with the Mets. He's always been an excellent lefty reliever, and if he's sufficiently recovered from the woes associated with being a Yankee, he could definitely be an asset.
Another pickup to keep an eye on is Greg Burke. Burke made some mechanic adjustments that led to a really terrific year for the Orioles AAA team. He throws side-arm now, and can hopefully use his newfound delivery to get some big outs for the Mets in 2013.
Bullpens are so often a crap shoot, but with the young arms and the potential of some of the other guys, there's a good chance it can be a strength for the Mets in 2013. This is without mentioning Frank Francisco as a bounce back candidate. He really under-performed his peripherals last season, so perhaps this year he has a less volatile year and locks down his innings.
There is no doubt that the trade Sandy Alderson is in the process of pulling off is a good one. We still aren't aware of some of the finer details, but the Mets are adding two top prospects, John Buck, and a third minor leaguer, for R.A. Dickey, Josh Thole, and a minor prospect. Dickey is one of the best pitchers in the league, and he still may be a top of the line starter for a couple of years, but the Mets are adding players that may still be having a positive impact on the team six years from now. It's certainly possibly they may not flourish, particularly the much farther away Noah Syndergaard, but the probability favors the Mets in that regard.
The problem is the immediate future. Travis d'Arnaud, the catcher the Mets are receiving, will probably be up to the majors very soon, if not on Opening Day. John Buck will likely be on the team in the interim, and probably shift to a backup role when d'Arnaud gets called up. Together it's unlikely they provide as much value as R.A. Dickey, and that means a team already under .500 is probably taking a step back before pushing forward. That's disheartening for most fans, whose number one concern is the current roster of players on the field. Many of us would rather root for the guys we have to succeed, particularly when they're great ones like Dickey, than reinvest emotion in new guys that are merely promising to be great. Ultimately though what the fans want doesn't matter because winning is what brings in the fans, the attention, and the money. It's not out of the question that d'Arnaud plus the pitcher the Mets replace Dickey with is worth more than Dickey and Thole would've been, but it doesn't seem like a good bet for 2013 nor the type of improvement the Mets need to climb out of 4th place if it does happen.
That's where the disappointment comes in; this trade does not make the Mets better in the foreseeable future. Sure, it raises the probability that they are better down the line, but it's also important that this player is going to be cheap and under team control for a long time. Fans can forgive losing star players, whether homegrown ones or adopted ones, when the team placed in front of them excites and captures their attention, but so far I'm not so sure the 2013 version is in position to do that. Especially if we don't get an impact bat for the outfield and instead go with Lucas Duda, Kirk Nieuwenhuis and a platoon of Mike Baxter and 2013's version of Scott Hairston. We heard a lot about the present value of contracts with the David Wright negotiations, and that concept applies to winning seasons too; a winning season in the present is worth more than one in the future. Good process only gets you so far, and there are plenty of inherent risks between now and then that could sabotage the plan. A clearly improved 2013, even if it ultimately falls short, could create the excitement that draws fans in, fans that will continue to come in 2014. The message lately has felt like it's not worth investing in this team yet, which keeps ticket sales and revenue down; revenue that could make the job of creating a winner in 2014 easier. It'd be unfair to assume Sandy Alderson's going to take the rest of the offseason off at this juncture, meaning he could still improve the team and the outfield, but it's hard to see the type of players coming that give this team a "If everything breaks right" chance at the playoffs.
As always with the Mets these last three years, the money question is always looming. Partial sales, which included Sterling money invested in the Mets, helped pay off loans and seemed to at least point the Mets in the right direction. Allusions were made to a payroll in 2013 at or above 2012's number. The deferred contracts and negotiations seem to point in a different direction, although it is still possible that Sandy Alderson spends most of that money on players that make the Mets better. It's never a good idea to expect much direct truth from a general manager, that's not their job, but given the message that the actions are sending it feels pretty hard to do more than guess at the plan. The Mets appear to be in a holding pattern and I just hope they get clearance to land before they run out of gas.
I like to call this spot the Subway Section because it's reminiscent of view from the subway platform outside of Shea Stadium where you could peek into the stadium. These photos are taken from just behind the right field scoreboard, next to the entrance to the Excelsior level inside corridor. You can watch replays on one of the televisions directly to your left.
It affords you a view right into the Pepsi Porch as well and if you look down, the World's Fare Market concourse. In my eye this section includes the walkway to the Pepsi Porch, which doesn't afford much in the way of real viewpoints of the game, but still offers a tease as you walk between sections.
Here's a shot of the original "Subway Section" from Opening Day 2007.
As well as being a Mets blogger, I'm also a homebrewer.  My mother got me a homebrew kit for Christmas one year, and it's grown into a fun hobby.  Recently I've taken my game to the next level, making beers that I feel are actually good instead of just drinkable.
Naming the beers is half the fun.  Often I like to think of a Mets related name, and sometimes even labels to go with it.  I first did this with a toasted coconut brown ale that I dubbed Oliver Perez is Coco-Nutz.  Most recently I created a Hefeweizen with strawberries that is really more of a Berliner Weisse, but who needs precise labels anyway?
I decided to call it Darryl Strawberry Hefeweizen.
I'm out of the country starting last night through September 30th, so I requested some Twitter questions to make a quick and easy post.  This is that post, submitted for your enjoyment while I tour Amsterdam, Munich for Oktoberfest, and Prague.
@ceetar What makes you think you can rely on Twitter for Friday Q&A questions when you're strapped for time?

— Ted Berg (@OGTedBerg) September 10, 2012
That's an easy one.  I learned from the best.  If you don't know, Ted routinely does a Friday Twitter Q&A at Tedquarters.  I wonder if Metsopotamia is big enough for TWO Q&A posts this Friday.  To truly make this ridiculous, I'm going to schedule a tweet to this post for Ted on Friday in hopes of getting the Internet stuck in a recursion error.
@ceetar What's your favorite craft beer of all time? — Paul J. Festa (@pauljfesta) September 10, 2012

Amusingly, I had responded to a question by Emily Ragle on this earlier in the week.
She asked: "#craftbeer fans: Do any of you actually have a favorite beer? I can't ever choose, and it's the most common question I'm asked."
So my response will be the same one I gave her: It depends on my mood and the season.  Right now for example I recently had a Founders Cerise, which is a delicious Michigan cherry fermented ale, and it's the first thing to come to mind.  I'll be in Oktoberfest in eight days though, and Oktoberfest/fall is still my favorite beer season, so that would get a nod if someone asking was looking for recommendations.  Visiting Hawaii two years ago I discovered a Toasted Coconut Ale at Kona Brewing Company that I absolutely fell in love with.  If you'd asked me before visiting the isles, I would've told you I didn't like coconut, and now I love it.  I actually created a similar homebrew recipe for it, and it's recently become available on the mainland in bottles and called Kona Koko Brown.
But this question is misleading.  Paul asks for my favorite beer of all time, and I haven't yet experienced all of time yet.  I've been drinking craft beer for less than 10 years, and there are some really amazing beers that just haven't been thought of yet.  So unless I stumble upon a TARDIS, I'm going to reserve final judgement.
@pauljfesta @ceetar If I may add a similar question: what's your favorite IPA?

— JD (@Section518) September 10, 2012
More beer questions?  I thought I wrote a Mets blog?  Fittingly enough, Eno Sarris was talking about IPAs on Twitter recently so I had this answer readily available as well.  It's Sixpoint Resin.  "Whatever flames upon the night. Man's own resinous heart has fed."  The beer is 9.1% alcohol and a whopping 103 IBU.  (International bittering units.  103 is extremely high) It comes in a nifty narrow green nanokeg (can) that I once heard someone describe as fitting perfectly among shampoo bottles in the shower.   IPAs can be a sore point for people that want to like more beer but find it daunting.  The bittering often turns people off, and is definitely an acquired taste.  A good IPA that I like to recommend is Flying Fish Hopfish; I find the malt in it balances the bitterness extremely well and makes for a delicious beer that's not too harsh.
@ceetar ballpark estimate of the number of steins full of beer you will consume? — Stephanie Giangrande (@ItsStephanieG) September 10, 2012

At least 'ballpark' is a baseball word, from the Banner Day winner.  This is a tough one.  At Oktoberfest beer is only served in liter-sized steins, called Maß and pronounced 'mas.  These go for nearly 10 Euros, which as of this writing goes for about $12.8 since the Euro is doing it's best 2007 Mets imitation and collapsing.  Plenty of beer in New York City is $5 for a pint, plus a dollar tip, so the prices doesn't even seem bad.  Still, drinking liters of beer in one sitting in one tent is probably a poor way to see Oktoberfest, Munich, or Europe in general.
We will be there for 15 days, not including the plane travel days.  Three days in Amsterdam, Nine in Germany, and four in Prague.  Three of these will feature long train rides, and four of them with some extended family of my wife's, which will probably raise the average amount I drink if what I'm being told about my German in-laws is true.  So let's measure pints, because we're American and it's a decent enough beer measurement.  Given all the great beer and beer halls and the like around Europe, I suspect I'll be drinking every day and mostly beer.  I'm going to guess three pints a day on average, with the travel days and jet-lag days dragging the average down.  So I'll figure 45 pints of beer.  Feel free to weigh in over or under in the comments.  Assigning a, probably low, 200 calorie value to a beer, that's 9000 calories which I'll need to run ~50 miles on treadmill when I get back to burn off.
@ceetar will you be even slightly tempted to check mets scores while away?

— Stephanie Giangrande (@ItsStephanieG) September 10, 2012
Yay, Mets questions!  When I started planning this trip early in the year, before the season even started, I knew there was a possibility I could be missing some big baseball games.  Clearly that's not the case, and the way the Mets are playing right now is frustrating.  7:10 starts are 1:10 am starts in Germany however, so I imagine I'll check in in the morning while checking email.  I'm sad there are only three games left, the final series in Miami, that I can watch though, and will probably click open a boxscore to see if David Wright has collected the hits needed to pass Kranepool for most in franchise history, if R.A. Dickey collected a win, or just to see who had a good game.
@ceetar The Mets, a great team or greatest team ever? — Gary Palumbo (@SaltyGary) September 10, 2012
Greatest team ever, obviously.  Baseball is the greatest sport ever, with the possible exception of Calvinball, so the best team ever would have to be a baseball team.  New York is the greatest city in the world, so clearly the best team would be located in that city right?  The designated hitter is an abomination, eliminating the transplants from Baltimore, the Yankees.  The Giants and Dodgers have now played more games in California than New York.  The Mets, born of New Yorkers' thirst for National League baseball, are clearly the greatest. Q.E.D.
@ceetar I want to hear drunk stories from Oktoberfest! Also, Prague is the best. Not a question, just a fact. Also, #BlameBeltran

— Jeff H (@darknova306) September 10, 2012
Everything I've read about Oktoberfest suggests I'll have lots of stories.  I suspect I'll even tell some of them, probably at the non-Mets blog Garden Variety New Yorker, where I tend to post stuff I think should probably stay off a Mets blog.   I'm sure if I have WiFi here and there I'll be tweeting the occasional European observation and picture.  I bet Jeff would appreciate a picture of the traditional Bavarian beer maid carrying way too many Maß of beer as well.  I've heard great things about Prague, and clearly it's Beltran's fault I'll eventually have to leave there.
Thanks for the questions everybody.  I'm scheduling this for Friday morning, and by then It'll be afternoon in Amsterdam and I'll have just arrived.  I'm probably sitting on a rooftop bar at the hotel looking out over the city right now.